Fashions during Wartime
(This article appeared on the web in 2003, written by Jill Goodyear)

At the start of the war only women without family commitments were directed into war work. Many were encouraged to join land, sea and air forces and were issued with hardwearing uniforms. Colours were chosen to provide camouflage in the field and so tended to be drab and practical. A standard uniform consisted of a jacket with button down pockets providing storage space for identity papers or equipment, a skirt, flat shoes built for comfort and a cap or beret.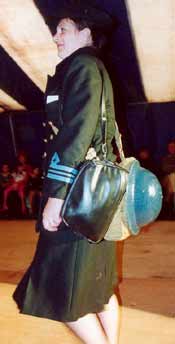 Designers do their bit
Couturier designers were called in to design uniforms. The Irish designer Digby Morton (1906-83) designed the new uniforms for the Women's Voluntary Services – WVS.


Civilian clothes took on a military air. Designers used uniforms as a source of inspiration. Lines changed little from the 1930s; skirts became shorter, shoulders squarer, trousers leaner and shoes sturdier. Practical reasons made women wear trousers in many situations that they would not have done before war began.


By 1945 the silhouette became slightly softer, but in general fashion did not change much during the war. There were not enough resources for people to buy new items each season due to rationing, so people only bought clothes when the old ones wore out.


Utility fashion
Top British fashion designers worked on the utility range following strict guidelines laid down by the government on what steps to take to minimise the quantity of fabric and accessories that they used. Hardy Amies, Norman Hartnell, Edward Molyneux, Digby Morton, Victor Stiebel and Bianca Mosca were all commissioned to design utility ranges. They produced a practical, durable wardrobe of a coat, dress, suit and shirt or blouse.


The scheme controlled the price and quantity of 85% of all cloth manufactured. The number of seams, pleats and length of stitching was controlled. Designs were rejected if not austere enough. Edward Molyneux had a design for a suit rejected for turn-back cuffs and lavish pocket flaps. Not all clothes manufactured were Utility, but even some hand tailored clothes were sometimes made from hardwearing Utility fabrics.



| | |
| --- | --- |
| The Utility Mark | |


Two abstract looking "C" shapes dovetailed with 41, which stood for Civilian Clothing 1941 – was found on a range of twenty eight Utility models, all to be sold at controlled prices. The designs were remarkably elegant and proved Molyneux's theory that the restrictions imposed by the need for economy were very important to British designers as they were forced to rethink styling and designed garments that were much less fussy than they had been before the outbreak of war.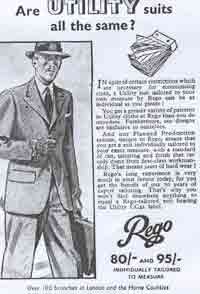 Red, White and Blue Jumper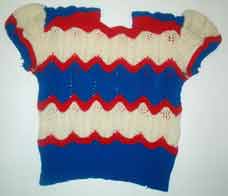 Monica Austin remembers

"That belonged to my Aunty Gertie and she lived in Western Road. She knitted it for the Coronation of George the Sixth. In 1945 I was in hospital because I had scarlet fever and then septicaemia set in. I was in Grove Isolation Hospital near Leighton Buzzard. I was one of the first civilians to have penicillin. VE Day was declared while I was in hospital. That was in May 1945 and Aunty Gertie was coming with my mother on the train to visit me from Bletchley. Being VE day she thought, "I will get my jumper out." So she wore her jumper and there was a lady sitting opposite her in the carriage really staring at her. My Aunt felt very uncomfortable and she thought, "What's wrong with me?" And then after a few minutes this woman said, "I was just admiring your jumper." (She thought she had sat up all night and knitted it specially).
Many people wore red, white and blue on VE day (Victory over England) as they reflected the colours of the Union Jack.



Doris White - Frippery and things-(extracts from her book " D for Doris V for Victory")
"We were very conscious of the description 'common' and so we shunned any idea of wearing earrings or high heels with trousers. We always hoped to look like mannequins. These we had seen in Vogue magazine while waiting in the doctor's surgery, and we did hear that they "walked abourt, wiv a book on their napper". ( In those days models had to learn to walk smoothly with a book balanced on their head ). I was reminded of this in later years, as a relative had been instructed to do this. She had been a seven year old evacuee, on a remote farm near Reading.She returned home when the war ended with slightly bowed legs and rounded shoulders, for she had been made to collect heavy loads of wood and carry them home to her 'benefactor'.( her host family ) "


Make-up and Accessories

Following the outbreak of war, only essential goods were manufactured. Make-up was considered non essential and manufacture was stopped. There was such an outcry from women that a limited range of products was allowed to be made. The quality was inferior and colours limited but the reasoning behind the move was to keep up the morale of the women during wartime. Ingenious ways were invented by women to combat the shortages. Instead of lipstick, beetroot juice was used to stain the lips.

Cosmetics


Face powder was dry and flaky, as was lipstick. The quality was affected by the shortages of ingredients such as fat, oil and glycerine which meant that products had no emollients ( the ingredient that makes lipstick smooth and shiny and face cream soft ). Shortages of alchohol affected the production of perfume and no cologne was made at all. Instead of manufacturing nail varnish using nitro-cellulose, the makers were using scrap film, which resulted in a tacky substitute from the original recipe.


Jessie Mullis recalls
"I can remember this nail varnish but it was really like putting toffee on; it was dreadful stuff. Another thing was " Odorono ". It was a pink deodorant. I went to Bletchley Park a while ago and they have got some makeup and perfume that was around just after the war. Goya perfume was around then and there is a place where you can sniff and smell what it was like."

" My mother and father were dead against makeup. I can remember going to a friend's house on my bike and when I got there we were going to a dance. Out of my silver shoes came my makeup that I wasn't allowed to have. It all had to be scrubbed off before I went back home but I wasn't quick enough to take the stuff out of my shoes. My mother put the shoes away and she found this rouge. She told me about it afterwards, she said, " You know you are not supposed to have that," and she threw it away."

"This memory is just after the war because my husband was there. We always used to go to the speedway at Newcross on a Wednesday night. This particular night my husband and his brother were so thrilled because they had managed to get us some perfume and it was terribly hard to get at that time. It was a little bottle of " Night In Paris " and I can remember Renee and I saying, " Oh thank you so much, " but once we had smelled it, we called it, " Night in the Dustbin. " It was absolutely vile".
The case for cosmetics was never more promoted than during the war years, as glamour and appearance were used as propaganda tools to encourage people involved in the war effort and to keep up morale.


The Look
The look was a simply made up face with arched eyebrows created with pencil, a powdered face and bright red cupid's bow lips. As the manufacturers were forced to find new ingredients to replace those not available, many new products appeared in the shops such as artificial eye-lashes, fluid eyeliner and cake eyeliner eyeshadow sticks, creamshadow and waterproof creme mascara.
The cosmetic firms Gala, Rimmel and Yardley all put out new lip pencils and launched new deeper colours which became hot sellers. Ladies liked to be seen putting on their make-up in public, copying the glamorous film stars in the movies. 'Beauty spot' patches were also revived to complete the 'painted look'.
Legs
Leg make-up became a necessary item as stockings were very hard to come by, unless you had a boyfriend in the American forces. Socks were worn for casual use, but women were known to use such things as gravy browning, tea bags or shoe polish to stain their legs and drew a black line up the back of their legs to represent the seam that stockings had in those days.
Hairstyles that were popular
Doris White - Frippery and things- jewellery (extracts from her book)
"Wave-set had virtually disappeared off the market, so we were at a loss to know what to set our hair with now. The doilies gave us the answer – they were stiffened with sugar water. Yes, that was literally the solution, so we dampened our hair with it. Other girls, ignorant of our cunning secret, envied our curls. There was an endless variety of ways to put up our hair- hair slides, hair combs, and hair bands. We wore it up, down, straight, curly, or with an Alice in Wonderland look. Big bows at the back to copy the Spanish senorita or pageboy and peek-a-boo from the silver screen."